Project Profile – Hampden Road House, Armadale
Situated in one of Melbourne's most coveted streets is an imposing 1930's residence that has been transformed for modern living by three experts in their fields.
Filled with light and life, Hampden Road House is a spectacular exemplar of what is possible when an architectural designer, interior designer, and builder share the same vision and passion for a project.
In this instance, the collaboration began with Lucy Bowen Design and Lisa Buxton Interiors. Both studios share the design ideologies of light, space and restraint to breathe new life into a home. Lucy and Lisa have put this into practice in Hampden Road House, where architectural elements, natural materials and finishes and draped textiles work in harmony to create a sophisticated and calming space.
Circa was thrilled to be involved in the project, working closely with Lucy, Lisa, and premium builder Stevens Waters in the specification and supply of exclusive timber flooring from our Arbre range, matching custom stair treads, and decorative door hardware.
We spent a few minutes with Lucy and Lisa who shared their thoughts around how it all came together:
Can you tell us about your respective professional backgrounds and how this project collaboration came about?
Lucy: "I have a degree in Architecture and have worked in architectural firms in Melbourne, London and New York over the past 10-15 years. Lisa and I are old friends but lived and worked in design in New York together and have always wanted to collaborate, so this was the perfect first project for us".
Lisa: "I studied drafting out of school and then went into a few different industries, only to return to design when I moved to New York. Upon arriving back in Australia, I started my own company. Luce and I have known each other since early school days, so a collaboration has been a long time coming".
Tell us about the home in Armadale. What was the vision and design style? Where did your inspiration come from?
Lucy: "It was already a beautiful home with a lot of potential, but the floor plan needed work to be more functional. We also needed to brighten the house up, so bringing in more light was important. We both have our own styles which are complementary to each other. But I would say that one thing we have both learnt from our time in New York is to create for comfort, so that was one of the major goals for this project".
Tell us about your product selections and how they support your creative vision?
Lucy: "I prefer to use natural materials where possible.  With a neutral colour palette I love creating comfortable spaces using layering, repetition and lighting. I believe we both have the philosophy of 'less is more' when it comes to our approach to design".
Lisa agreed, adding "The home is a Tudor style, so while the renovation modernised the interiors, we wanted to keep some classic elements throughout the home. This is why the brass hardware was so perfect for the home, as it provided a wonderful traditional touch to the home".
Were your specifications driven by specific design aesthetic, materiality, function or practicality?
Lucy and Lisa agreed "all of the above, they are all team players".
What was your process behind selecting furnishings that complement the French Oak Arbre flooring and brass hardware?
Lisa: "Luckily we had a lot of existing furniture that we could place in the home. The pieces that we chose were more complementary. This gave us freedom to be a little more creative, ultimately going with some more modern pieces, including the artwork, to match the darker floor colour".
Lisa, how did Stevens Waters help bring your vision to life?
Help? They 100% brought the vision to life! I must say it was a pretty seamless build because everyone worked together so well.  Luce is obviously brilliant at her job, and the process was easy and fuss free. We were very much on the same page so that helped too. The boys at Stevens Waters were amazing.
Tell us about your experience working with Circa, and how working with us contributed to the fabulous project outcome.
Lisa: "Working with the team at Circa was great. The process was easy and relaxed, and the products are beautiful.
Lucy: "It was a very enjoyable experience with an exceptional outcome. Both the flooring and door hardware look beautiful in the home".
Project Team:
Lucy Bowen, Lucy Bowen Design. @lucybowen.design
Lisa Buxton, Lisa Buxton Interiors. @lisabuxtoninteriors
Stevens Waters Building. @stevens_waters_building
Circa product highlights: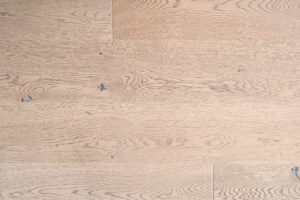 Arbre French Oak Engineered Flooring in colour Acre 220mm wide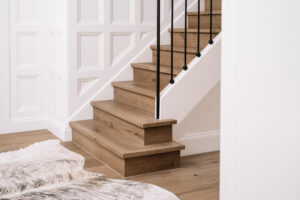 Custom Bullnose Stair Treads in Arbre French Oak colour Acre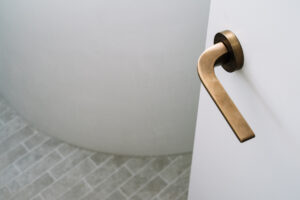 Assa Abloy Lockwood 1220 Series Brass Door Handle – Lever 123 – Oil Rubbed Finish