Thirteen Projects – Masters of their Craft
Located in Melbourne's inner-north, Thirteen Projects have established themselves as one of our go-to partners for highly crafted joinery and construction solutions. Founded by Directors Ivo Baldari and Mark Bailey – there is something special – about how they go about business, and it resonates with us and our customers.
Thirteen Projects is up for any challenge, bringing their enthusiasm and expertise to every project. They share our passion for problem-solving, attention to detail, quality and value, and it shows in the end result.  However, it's not just the outcomes that we love and that our customers admire – it's the hands-on approach that makes our partnership work. Offering an end-to-end service, from design and prototyping to site installation and fit-off, Thirteen Projects is with us each step of the way.
We spent some time with Ivo and Mark recently, sharing stories and thoughts about the journey, and what makes them tick. Here's what they had to say.
What was your first collaborative project with Bowens?
Our partnership with Bowens started in March 2018. In our first collaboration, we created custom exterior timber glue-laminated beams for St Catherine's School, Toorak, designed by Croxon Ramsay Architects.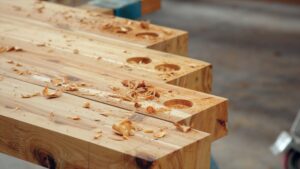 Most challenging and rewarding project?
The Springvale Community Centre presented us with many challenges throughout the project. The "snaked" handrails were fabricated section by section from unique templates. No two were alike, there were 125 of them, all individually measured and mitred. It's always rewarding to see the end result of such a complex project.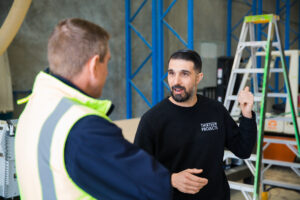 The kind of project that gets you inspired?
The not so ordinary left of centre, intricate projects get us inspired.  Each project brings its own needs. It can range from time deadline requirements to complex outcomes. We enjoy the challenges of large scale glue lam timber beams which require us to be present and liaise with Bowens representatives, architects and engineers for the term of the project. Equally, we love the smaller architectural elements that require CNC specific details and finishes. Our team enjoys the opportunity to utilise their skills and experience in technology and tradition. We love the possibility of bringing together new design ideas and craftsmanship to get the result.
What is it about working with Bowens that makes our partnership work?
The shared knowledge and experience allow for a collaborative approach. A can-do attitude towards outcomes by both Bowens and ourselves makes for a rewarding relationship. From highly-detailed furniture pieces to heritage moulding reproduction, custom interior screens and wall linings through to large-scale commercial, the diversity of projects and opportunities means that it is always exciting – never boring.
How have you become the experts in your field? 
With a combined 25 years in the construction industry and working alongside architects and designers, we felt that there was a shortage of detailed craftsmen. Appreciating the need for detail, quality and service beyond what the industry was supplying we decided to start producing our own product to support our business. Initially, we worked with Bowens to produce machining and production works that were simply too difficult for others to deliver. Over the years this has grown into a business known for its quality and willingness to problem-solve.  We continue to reinvest in machinery and technology to offer a variety of possibilities.